Forbidden Sweets Unique Rice Krispy Treats
I would like to share an idea for the newest party favor craze! Dream of the best children's snack of all time – your right – Rice Krispy Treats! Well, Forbidden Sweets (http://www.forbiddensweets.com) has taken this amazing nostalgic treat to a new level. We handcraft hundreds of designs in different shapes, hand-dip them in chocolate and then hand-decorate them in every style you can imagine (like butterflies, frogs, trucks, sports balls, etc). Each treat is 100% covered in chocolate, which in turn will guarantee freshness for months.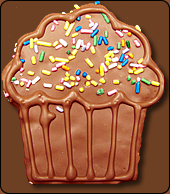 These treats make the most unique party favors for all occasions (birthdays, showers, graduation, communions, bar and bat mitzvahs, weddings, holidays, etc.)! One item to buy, nothing to package, no silly trinkets people will toss out, just receive them and pass them out at the party! Moms will LOVE the simplicity and kids will LOVE their moms for giving them out.
The chocolate covered Rice Krispy Treats are about 4in. average diameter in size and approximately 4-5 oz. in weight. They are also on a sturdy sucker stick and sealed in a clear cello bag for freshness. Check out our latest styles at www.forbiddensweets.com/just arrived page for the newest designs and click on your favorite category to see the latest selections in every area.
Forbidden Sweets sells retail and wholesale across the United States. We do not ship outside the US.
Contact us at www.forbiddensweets.com, email us at (info@forbiddensweets.com), phone 847-838-5990, fax 847-838-5991. OR – you can even join our Facebook and YouTube accounts and follow us there as well.
Thanks Forbidden Sweets for writing this article! This is an amazing idea for birthday party favors or treats for the kids! I love new birthday party ideas and especially love them if they are covered in chocolate.