Stacey Russell– Owner and Designer of SMR Party Designs
A child's birthday is one of their favorite and most special days of the year. As moms and dads we want to make their
birthday the best day ever, keeping them cheerful and the guest happily entertained.
We all know that with a busy schedule party planning can be a hectic task, so as a party designer and a busy mom of three boys; I am always searching for ways to make their special moments in life, satisfying for them and easier for me.
Now I have just the ticket for that, get everything you need in a printable party package. Each package is designed to help you create unique, fun, memorable moments with your children, family and friends without breaking your budget and without having to ever leave your home.
All party packages and invitations can be personalized with your party information and customized with your theme.
That means:
No more filling out invitations
No more waiting or paying for shipping
No more last minute trips to the store
No more scavenging around for the perfect party
No more boring party décor.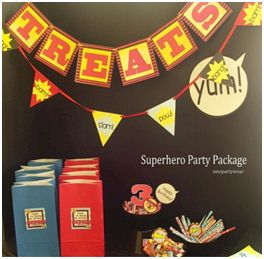 Each item can be printed from home, online or a local print shop, as many times as you want!  A few basic tools will be needed when putting your package together, scissors, glue, ribbon and white cardstock. All items are very simple and easy to assemble.
So, this birthday add a special personalized touch to your child's party, save time and money!  Have your party décor shipped right to your inbox. Perfect for all ages, no craft experience needed!
Like this idea? Like us on Facebook! SMR Party Designs-Facebook
Birthday Party Ideas 4 Kids loves easy ideas for birthday's like these fun party printables!  For more birthday party ideas, party games and birthday themes see our website at http://www.birthdaypartyideas4kids.com