Velata Fondue Warmer & Chocolate Review
One of my most favorite ideas for a birthday party, or any party, is the chocolate fountain … until now.   I was lucky enough to be asked to review the new Velata fondue warmer this week and now I have a new favorite party idea!   I loved it so much that Birthday Party Ideas 4 Kids is going to give away one Velata Warmer and chocolate pack to a lucky winner to use at their next party.  See our website to enter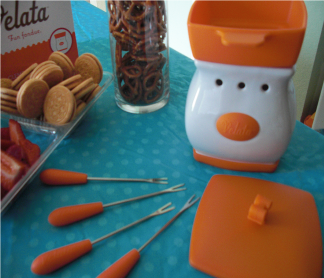 For my review I chose the orange Clementine Curve warmer.  The choice wasn't easy because the warmers come in 6 different colors and 3 styles.  I also picked a pack of the Milk Chocolate to use in the warmer (there are three other flavors to choose from: Dark Chocolate, Caramel Milk Chocolate, and White Chocolate).    The Velata arrived and inside was the Velata warmer and 4 matching orange fondue forks.   I was pleasantly surprised when I opened the package and found out that the dish that holds the chocolate is made of silicone.   (I read on the Velata website that it is a patent pending creation and I believe it … I've never seen anything like it!) … read the rest of the review and enter the giveaway on the contest page at Birthday Party Ideas 4 Kids
Enter to win a free Velata Chocolate Fondue warmer to use at your next event!
Velata Fondue Warmer & Chocolate Giveaway!
Prize:  One Velata Chocolate warmer (in your choice of color and style) and one package of chocolate (choose from Milk Chocolate, Dark Chocolate, Caramel Milk Chocolate, or White Chocolate).
The contest is now closed. 
Congratulations to our winner –  Melissa S.!   Enjoy your new Velata Chocolate Fondue warmer!!! 
A special thank you to Kacee Tagtymeyer – Independent Velata Consultant for allowing me to review this wonderful new product from Scentsy!  You can purchase Scentsy from Kacee at www.kacee.scentsy.us or find out more about the Velata Chocolate Fondue warmer from her at www.fonduepartyfun.com.