New for Fall / Autumn themed parties … Scarecrow theme!
Scarecrow theme party games, activities, icebreakers and a Scavenger Hunt with a Fall theme with 30 fun items to find!  Free scavenger hunt item list!
Choose which games and activities are best for your party and mix and match them!   Easy, cheap and fun ideas for kids, tween and teen parties.
You'll also find over 200 party themes on Birthday Party Ideas 4 Kids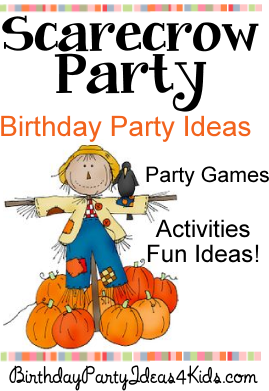 !    Plus games, activities, crafts, scavenger hunts, sleepover and slumber party ideas, invitations, RSVP help and much more.
Let us help you get the party started!