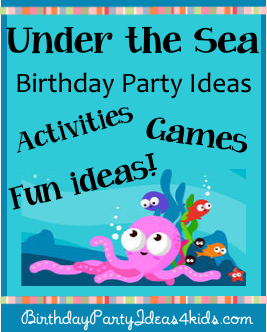 Under the Sea birthday party ideas for kids, tweens and teens.
Fun ideas for Under the Sea theme birthday party activities, party games, food, favors, decorations, invitations and fun ideas to make the party special.    The Under the Sea party theme is great for boys and girls ages 1, 2, 3, 4, 5, 6, 7, 8, 9, 10, 11, 12, 13, 14, 15, 16 years old.
Choose from our fun ideas to make your party fit your child and the party guests age and interests.
Birthday Party Ideas for Kids has over 200 birthday party themes to choose from along with pages full of party games, sleepover and slumber party ideas, birthday activities and much more.   Let us help you get the party started!