Thing 1 and Thing 2 Birthday Party Theme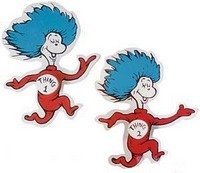 Thing 1 and Thing 2   from the Dr. Suess classics are a great ideas to build a birthday party around. The Thing 1 and Thing 2 theme works great for kids of all ages and especially well for twins or siblings.
We've just listed our favorite ideas on the website for Thing 1 and Thing 2 birthday party themes.
Lots of fun ideas for you to look through and pick which ones fit your budget and your childrens taste.
Ideas for Thing 1 and Thing 2:
Decorations
Invitations
Activities
Party Games
Food Ideas
Party Favors
Goody / Loot Bags
We've just started to develop a long list of great party theme ideas for twins and siblings. Stop by and see what's new.
You'll always find great birthday party ideas, party games for all ages, sleepover ideas, scavenger hunt guides and free lists to print out.
Make your next party extra special by visiting Birthday Party Ideas 4 Kids first.