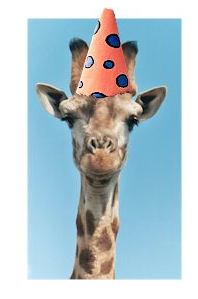 I would have changed up some of my birthday party themes! My default was always Hawaiian with a scavenger hunt. We always had green paper plates and I distinctly remember a giant paper pineapple decoration that my mom never threw away because she knew we would need it for the next time.
Part of my dilemma was that I could never think of anything new to do, so I went for something that was familiar. Its too bad birthdaypartyideas4kids.com wasn't around, or I could have had fabulous parties year after year!
If I was able redo one of those parties, I think these themes would be my favorite contenders – my 'party theme wish list', if you will.
My party theme wish list (for whenever they invent time travel):
How groovy would a 60's party be?! Flowers, smiley faces, and bright colors have always been a favorite of mine. I'd be old enough to have a cute outfit and play fun games, but still young enough not to realize that I had no clue about anything 60's related. Also, I think my mom would have had a lot of fun helping me plan this bash!
My favorite ideas? The 60's dance competition, groovy fringe tshirts, tye-dye cupcakes, and lava lamps everywhere for decoration. Who would have had the coolest party ever? That's right, me.
When I think of a carnival, I think of games, food, and having a good time-so its basically a birthday party! I really like this idea because it would have worked well no matter what grade I was in or who I invited. It's almost fool-proof!
My favorites things for this one are having tickets for the different activities, face painting, all of the different kinds of carnival food, and the mystery fishing game. There's something for kid, which means everyone would have a good time.
Hello, super unique party theme. Would anyone else think of having a giraffe themed birthday party? I don't think so…
My faves from this are the giraffe prints on the sidewalk, make your own party hats, and the highest tower block game (which I know from personal experience is a huge hit). This would also be super easy to customize to whatever my favorite animal was that year.
I like this one because there's just so much you can do with it. Also, animals make every party better, and this theme has lots of them.
I really like the relay games, piranha fishing game, jungle fever juice, and all the decoration ideas. It's super customizable, which is perfect for making it your own!
I know, I know…this is essentially the same theme as all the parties that I did have. BUT, think of these ideas as a fresh coat of paint. I could have gone from green plates and paper pineapples to something that blew people away!
My favorites: fruit smoothies (yum!), hula hoop contest, octopus hot dogs, and make your own leis. The only thing that could make this party better is if I celebrated it on an island.
Who says girls can't have a video game as their party theme? Not me! This one was a favorite growing up, and it definitely feels like a throwback talking about it right now. Plus, I could be Princess Peach and wear a tiara so I'm basically sold on this idea.
The best things about this theme? Make your own hat, Mario mustache photo opp, Yoshi's egg race, and making the front door look like a block wall. Imagine you just beat Bowser on your first try, and you're almost on the same level of winning as this party.
Ah, the City that never sleeps (although I doubt my mom would appreciate that being a part of the party). I can just see myself throwing a party of the highest sophistication for all my friends and classmates.
The A List for this theme includes having a Broadway show, pass the big apple, large soft pretzels as a snack, and making a skyscraper for a photo backdrop. Perfection.
I have always loved spies. I don't think it's a viable career choice for me anymore, but it would be fun to pretend! Who knows, maybe if I had used this as one of my past themes I would be working for the CIA right now.
My (not so) super secret favorites for this kind of party are the invisible ink, cipher wheel, disguise buffet, and the spy training obstacle course. Super fun and super easy!
I'm not sure if this show was around whenever I was in elementary school, but it would have been cool nevertheless. And with so many games, who wouldn't have fun at this party?!
The award winning picks for this theme are the tribe banners, bamboo relay, frozen t-shirt challenge, and the rock garden.  Even people who don't watch the show would have fun with this one!
Have you ever thought about having a unicorn themed party? Have you? Because if you have then you're really cool and if you actually went through with it then I want to be your best friend. I think others would agree with me, and I know I would have been the talk of the class had this been my theme.
My favorites from this are the unicorn hats, catch the unicorn's tail game, rainbow tag, and glitter everywhere. Can you ever have too much glitter? (No)
What do you guys think? Did any of your favorites make the list? If you could redo one party from elementary school, what would you have done differently?