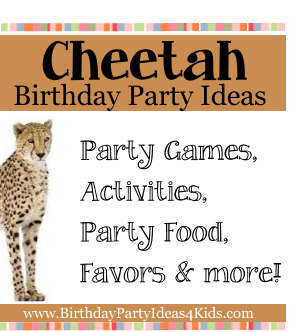 We've added our favorite Cheetah themed birthday party ideas to the Birthday Party Ideas 4 Kids website!
Fun ideas for Cheetah themed games, activities, invitations, party favors and more!
We've collected all the best ideas for a Cheetah birthday party and placed them all on one page so you can mix and match which ideas will work the best for your individual party.
This is a great party theme for all ages (1, 2, 3, 4, 5, 6, 7,8 , 9, 10, 11, 12, 13, 14, 15, 16, 17 and 18 year olds!) and our ideas will help you make sure everyone is having fun.
You'll also find over 175 more birthday party themes, party games, scavenger hunts, mall scavenger hunts, icebreakers and everything you need to get the party started!