Dance Theme Birthday Party Ideas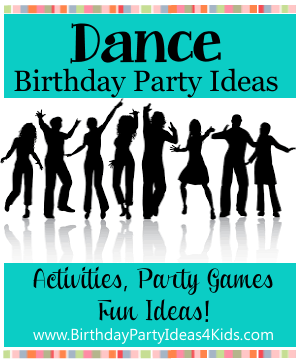 You'll find great ideas for a Dance themed birthday party on the Birthday Party Ideas 4 Kids website!
Dance! Dance! Dance!
All the guests will have a great time with our party ideas for:
Dance theme activities
Dance party games
Dance theme invitations and decorations
Ideas for party favors, goody bags and party food!
The best ideas sent in from our readers!  All the ideas are great for guests of all ages … kids, tweens and teens!
Get the party started at Birthday Party Ideas 4 Kids!  All the best party ideas for ages 1, 2, 3, 4, 5, 6, 7, 8, 9, 10, 11, 12, 13, 14, 15, 16, 17 and 18 years old!
Party Games
Birthday Activities
Over 175 Birthday Party Themes
Sleepover Guide
Scavenger Hunt Lists
… and much more!