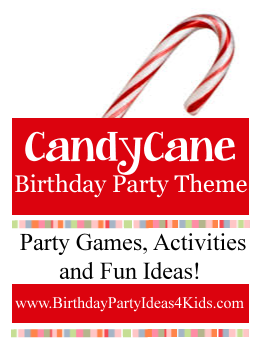 A Candy Cane birthday party theme is perfect for a winter or Christmas time party!
We've added all of our favorite Candy Cane themed party games, activities, party food, favors, activities, crafts and a great Christmas / Candy Cane themed scavenger hunt!
Unique birthday party theme for kids, tweens and teens of all ages!
Let us help you get the party started!    Birthday Party Ideas 4 Kids
Birthday party themes, party games, birthday activities, Scavenger Hunt lists, Sleepover Guide for girls and boys slumber parties, party planning help, RSVP answers and much more!